You've discovered a nice new home in a lovely neighbourhood, close to a decent school and your place of business, but you're also a pet owner, and on top of all the relocation-related responsibilities, you need to consider not stressing your favourite pet along the road. Every small change in a pet's environment might cause anxiety. Many pets, especially those whose owners are frequently away from home, acquire a dread of abandonment since they don't understand concepts like house relocation. Moving with pets, however, can be made less traumatic for both you and your family's furry buddy provided you know what to do. In today's blog post, I will be talking about some tips which you can use to make your move with pets easy-breezy
So, let's just dive right in
Tips to Make your Move with Pets easy-breezy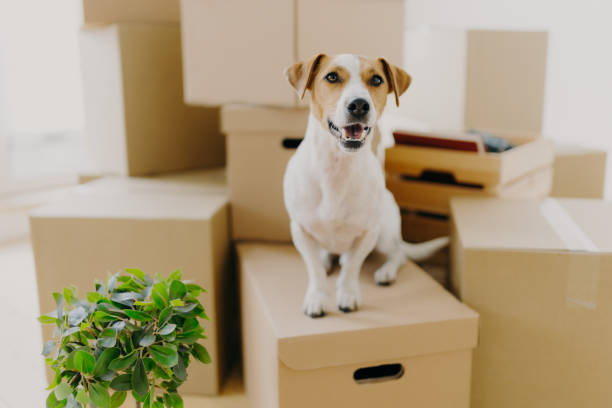 Although there are some things you can do to decrease the stress of relocating, it is easy to forget anything when you already have a long to-do list. That is why we have put up a few basic recommendations for moving with pets to make the process go as smoothly as possible.
Here I have enlisted some tips you can use to make your move with pets easy breezy
✅ Preparation
Prepare a pet travel kit with everything your pet will require during the packing and unpacking process, which can take many days. This should include adequate food and treats, as well as toys, grooming tools, and kitty litter. Make sure you always have it with you.
✅ Make an appointment with your veterinarian
If you're moving out of the area or to another nation, make sure to consult your veterinarian first. You must bring your pet's medical records, as well as any prescriptions for drugs they require. They may even be able to recommend a decent veterinarian in your new area.
Read also: How Citiesmovers is better at providing moving services?
✅ Keep them out of the moving process as much as possible
When relocating with pets, try to keep the amount of activity and noise to a minimum. While you won't be able to stop packing and moving boxes, you may keep your pet in a quiet room and make sure they are at ease. Check on them on a regular basis. Because pets have a sense of routine, walk and feed them at the same time every day if possible. You can also entrust your pet to a friend or a daycare facility.
✅ Traveling with your pet is possible
When you're ready to leave, make sure your pet is in the car with you. Put your cat or small dog in a carrier if you have one. You can cover the carrier with a blanket to calm the animal and conceal the shift in environment. Traveling with larger dogs should be done in the back of the car, in a kennel. It's possible that you'll have to put some chairs down. Professional Packers and Movers Delhi will help you move with pets in an easy-breezy manner.
✅ They should update their information.
Don't forget to contact the database firm where your pet is registered and update their microchip information when you change your address. You should go through the recommendations laid down by the government or the authority.
✅ Taking specific animals with you
For a stress-free moving experience with a specific animal, see our suggestions below:
When it comes to moving with a dog, there are a few things to consider
When moving with a dog, don't wash their bedding for a while because the familiar aroma will comfort them during the transition. Make sure you stop for potty breaks if the trip to the new residence is exceptionally long. Also, don't forget to look into local dog rules in the new area/country.
Moving with cats is a challenge.
When relocating with a cat, the most important thing to remember is to equip it with familiar toys and accessories, as well as a comfortable, yet durable carrier. Allowing your cat to leave its carrier throughout the travel will almost certainly result in scratched hands and upholstery. Also, just feed your cat a small amount of food before leaving; otherwise, it may become ill.
Relocating with a pet bird
Keep in mind that birds are sensitive to temperature variations when moving with them. Maintain a comfortable temperature in the vehicle and keep your bird out of direct sunshine. Also, to make your pet bird's relocation more pleasant and less stressful, prepare a few pieces of fresh fruit or vegetable to feed to your feathery companion throughout the journey.
✅ Getting your pet used to their new home
Unpack your pet's possessions and place them in one room as soon as you arrive at your new home with your pet. Allow your pet to sleep there with his or her toys and bedding. It's best to ease your animal into its new home by allowing it to explore only one or two rooms at a time. Keep an eye out for any possible escape routes for your pet.
Now that you've moved to a new location, try to stick to your old routine. This will assist the animal in adapting more quickly and effectively. If you need to leave the house for a few days after the relocation, ask a friend to come over and keep your pet company, or hire a pet sitting service.
If you have a dog, another useful thing to do is stroll about your new neighbourhood looking for dog-friendly parks and walking pathways. Even if your dog is calm, keep it on a leash for at least a few weeks until it becomes used to the surroundings.
Final thoughts
So, I hope this post was helpful for you. If you are planning to move with your pets, you can use these tips to make your move with pets easy breezy.
If you have any query, just get in touch with us!