It is both difficult and exhausting to relocate to a new company office. It can both emotionally and physically drain you. Packing, transporting, and unloading are all hated chores in the relocation process. You must also do it correctly since you must safeguard all of your materials. With so many tasks to complete, you might want to consider hiring a professional mover. The following are reasons why you should hire professional packers and movers for relocation
Let's jump right in
Reasons to hire professional packers and movers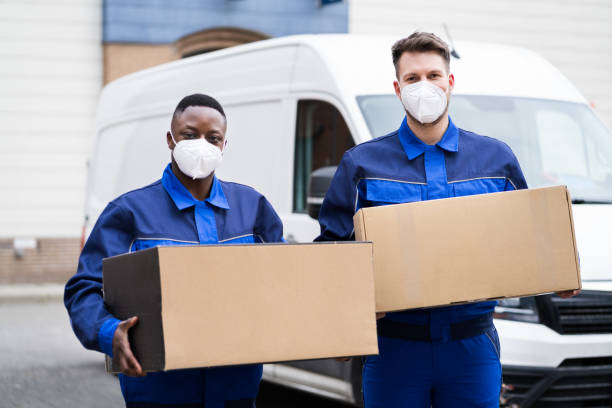 Read on to find out the reasons you should hire professional packers and movers for relocation
✅ There is less stress
Whether your company is expanding or not, transporting all of your large and precious items from your old office to your new one can be a difficult chore. Hiring a professional mover will be advantageous. How? You won't have to worry about the safety of your equipment during the move because of their knowledge, abilities, and tools.
✅ Packing requires less effort
The majority of commercial movers provide packaging services for all objects and materials. This is wonderful news because it means you can cut down on the amount of time you spend packing your belongings. You may also rest confident that your company's valuables will be packed efficiently and carefully thanks to their professionalism. However, take in mind that not all business movers offer this service, so look for one that can.
✅ Choosing the Right Moving Tools
Company materials and equipment are valuable assets for every company, and they understand how to keep them safe while in transportation. It's not only about getting them there on time; it's also about getting them there safely. This is one of the most crucial reasons to engage a professional mover. The latter has the necessary tools to efficiently and correctly relocate all of your belongings.
✅ Packing valuable and fragile objects
Bubble wrap is required for glassware, and protective soft rolls are required for equipment such as televisions and refrigerators. Specialty packing materials are available from moving firms for valuable objects such as glass, mirrors, expensive artwork, electrical fittings, home appliances, and other fragile items. Because the relocation can quickly cause damage such as dents and scratches, even your heavy furniture requires cautious packing. Our staff of well-trained professionals at Citiesmovers ensures that your personal possessions, regardless of shape or size, are appropriately packed.
✅ Time and energy are both valuable commodities
When it comes to barriers, movers can assist you in overcoming them. They know how to handle this issue because it may have happened to them previously. Hiring them entails taking advantage of their knowledge, abilities, and physical strength.
✅ Possess the ability to properly handle valuable items
You can entrust your furniture and other valuable business items to a commercial mover. They know how to load and unload all of your sensitive items properly.
But hold on! There's more! You may be surprised to learn that hiring a commercial mover can really save you money. While it is true that hiring their services will cost you money, it is far less expensive than having to pay for repairs after your company's assets were destroyed during the transfer. As a result, entrusting the job to the pros is always a good idea.
✅ Packers and Movers provide transit insurance
One of the other benefits of hiring professionals movers and packers is that they provide you with goods insurance policy as well. This implies that the losses due to loss or damage are completely covered and you won't have to bear them on your own.
✅ They have a thorough understanding of the entire situation
The most significant advantage is that expert movers and packers are intimately familiar with the sites. Whether you're moving locally or internationally, we can help. Professional moving companies will always do their best to make your relocation as smooth as possible.
The bottom line
Now you must have got some idea of why hiring professional packers and movers in chennai is important for your relocation. They have the expertise and resources to execute the perfect relocation for you.
If you have any query, just get in touch with us!