Moving from one home to another can be a difficult experience for everyone. Because it requires a lot of effort, such as adequate planning, careful packing, finding suitable transportation, unloading, and unpacking. Apart from that, because you are not an expert in this sector, self-shifting might cause major damage to your valuables.
Everyone wants a smooth transition, and the best way to do so is to employ a reputable moving company. However, some moving processes can become quite stressful, and dishonest or unprofessional movers may even defraud you to gain an advantage.
It's critical to safeguard oneself against con artists, as even a minor blunder could result in your valuables falling into the wrong hands. When it comes to finding a moving company that is capable of meeting all of your relocation demands efficiently and thoughtfully, you must conduct thorough research and make informed decisions.
Let's go over some key aspects that will assist you choose the right moving company.
Tips to choose the right moving company for relocation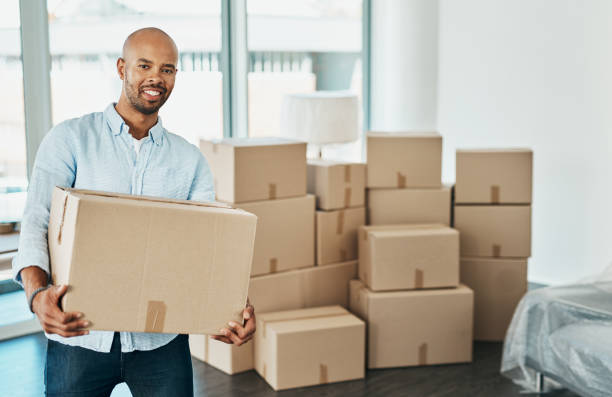 Here i have compiled some tips you can use to choose the right moving company for your home relocation
? Always get written estimates from a few different moving companies.
Without a question, there are many scam organisations operating in the market that would first promise you a low price. But once you hire them, they will continue to add extra charges for any further services. It's always a good idea to contact a few reputable movers in your area and request a written quotation for your entire transfer. Never trust movers who provide quotes based solely on phone calls and email addresses, without conducting a thorough inspection of your home.
? Never rush through the choosing process.
Selecting the first relocation company to move all of your valuables could be a bad idea. Always conduct thorough research on at least three companies,. Checking their reviews and years of experience, and asking your friends and relatives whether they had prior experience. Also, see if the company has received any previous customer complaints. The safety of your belongings should be your top priority, so choose wisely when choosing movers. When a customer receives excellent service, he or she leaves positive feedback for the company. Few people discover any little issues throughout the relocation process, and they begin posting negative evaluations and comments on various websites.
? Exceptionally low-cost movers should be avoided.
You could be perplexed as to why different movers charge varying prices for the identical moving needs. However, it is true that if you pick a cheap moving company, you may end up in problems. As a result, these movers will start inventing excuses to pay you extra in the middle of your move (e.g., you have too many stuff to move, your new destination is too far away for them, they don't have sufficient transportation, proper crew, etc.). So, rather to being concerned at the last minute, it's best to invest a little additional money on experienced movers and rest certain that your belongings will arrive safely.
Read also: Why should you go with citiesmovers for home shifting process?
? Check to see if the business is completely licenced.
You should never put your trust in a moving business that does not have a valid licence to operate in this industry. Always make a proper verification regarding Packers and Movers before believing their words. We understand that it is a time-consuming task, but it is necessary for a safe relocation. So, when you hire a moving company, make sure to ask if they are licenced.
? Check the history of previous complaints.
It's critical to know whether or not your moving company is capable of meeting all of your relocation needs. You should conduct extensive research into their greatest work, particularly if they have a history of serious complaints. It will make it easier for you to interview your movers during the recruiting process. It's a significant truth. Proper study always yields the best outcome.
? Examine their ratings and reviews.
A professional moving company will constantly strive to provide you with high-quality service in order to make you a happy customer. If you want to move your belongings safely with a reputable business, browse to their website and look at their reviews and ratings. This will provide you an extra assurance that you are dealing with reputable movers. For thorough and clear information, you should also contact a reputable reference organisation (such as Citiesmovers) or visit other websites such as Facebook, Google+, and others.
? Carefully examine the documents.
To complete your relocation smoothly, you must pay close attention to all of the necessary paperwork. You can ask your movers to clear anything that seems complicated or isn't making sense to you. Or if you have any complicated questions. To ask any inquiry, you must first read and comprehend all of the documents provided by your mover during the survey or over the course of your transfer. These documents contain moving quotes, service orders, bills, and inventory lists, among others.
Wrapping it up
You must have learned a lot about Packers and Movers in Noida after reading the crucial factors listed above. Professional movers strive to alleviate all of the stress associated with your relocation in order to ensure a smooth transition. However, you should conduct thorough research on the moving business before hiring them to meet your needs. A dependable moving company will always be there to supply you with excellent service. Your frantic relocation will go down without a hitch, and you'll be able to relax and appreciate your new surroundings.