Moving may be a very stressful situation. Whether you're looking for a new job or dealing with personal issues, you'll go through a range of emotions. Moving presents its own set of difficulties, which are compounded by the emotions you will almost certainly be experiencing. It will be good to know what to expect when relocating and how to deal with it. In this article, I will be talking about how you can manage your stress during relocation
Let's just dive right in
Manage Stress during Relocation using the following tips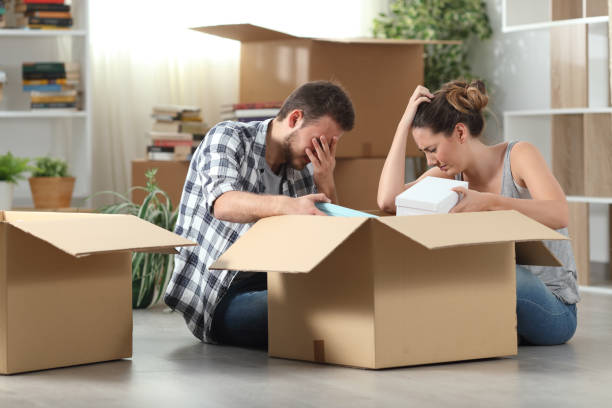 Relocation is a hectic process but by following the below mentioned tips any person can manage their stress during their home relocation
✅ Plan ahead of time.
Make your relocation arrangements as soon as feasible (possibly eight weeks before). You'll have plenty of time to plan your move, book your favourite moving company, and complete your moving checklist if you start early. Early planning saves time and money while also reducing stress. Make sure you give yourself plenty of time before your move to figure out what to do with the items you won't need. Packing presents its own set of difficulties, which can be unpleasant if completed in a hurry. Early planning ensures that you leave enough time to pack everything so that you are ready to move when the time comes.
Related article: How to save space during home shifting?
✅ Maintain Your Budget
Although moving isn't inexpensive, don't let the financial issues add to your anxiety. Create a budget that includes all of your moving fees to keep your finances in order. Do you intend to employ the services of a moving company? Will you be renting a truck on your own? Are you planning to rent a storage unit? You can avoid financial surprises if you make a budget (and stick to it!) along the way.
✅ Organize Yourself
Being organised will help you to cope with the stress of moving. Sorting and labelling your stuff will aid you and your movers in determining which boxes contain specific items. Not only will being orderly help the relocation go well, but it will also make unpacking less stressful. A trip to the spot where you plan to relocate might help you draw a rough map of the area so you know where each box will go and unloading will be easier. You'll have less headaches and an easier adjustment if you organise your move well.
Read also: How to relocate safely during COVID-19 Pandemic?
✅ Hire a Professional Moving Company
Delegating some of the chores to a professional moving firm, if your budget allows, may help alleviate some of the stress of relocating. For starters, movers take the burden of lifting large goods off your shoulders, and they may also assist you in packing and properly wrapping some of your more fragile belongings. Professional movers utilise the right tools to keep your items safe while they're in transit. A competent moving company will have many trucks of all sizes to ensure that they can transfer all of your stuff in one trip, saving you money and time. However, you should be certain that the organisation you use has a solid reputation to avoid adding to your stress.
Read also: How to make home sifting trouble-free with citiesmovers?
✅ Make a bag for the night
It might be pretty frustrating when you have packed everything and don't have some of the items you require right quickly. Pack an overnight bag for at least the next two days in your new area to prevent the stress of having to look for certain items precisely when you need them. Instead of having to go through the hurried search for urgently required items, carrying an overnight bag will help you relax while you unpack your belongings slowly. Make a list of everything you could need right away and pack as you cross items off the list. A checklist for these items will save you a lot of time and aggravation.
✅ Inquire for assistance
Everyone could benefit from some assistance from time to time, which is why you don't have to go through the stress of moving on your own. Don't be hesitant to ask for assistance, whether it's for packing, unpacking, or even advise on how to make your move more smoother and less stressful. You might also employ the company because it brightens the task and makes it more enjoyable.
✅ Concentrate on your well-being.
There's little doubt that you'll have some level of moving-out anxiety, no matter how well you prepare. During this moment, be kind to yourself and do things that help you relax or feel at ease. Have a bath and make a cup of tea, settle up with a good book, or ask the kids for a family game night. You'll help keep yourself in balance if you take these extra efforts to reduce stress.
Final thoughts
Moving may be a very stressful experience. You may, however, reduce your stress by implementing a few, if not all, of the suggestions in this article. Contact packers and movers in delhi today for more information on how to handle stress during a relocation or to enlist the services of a professional moving company.