SOCIAL DISTANCING is something which all of us heard or read many times in the past two years. COVID-19 pandemic has made us stay in quarantine. However, what one can does when their plans to relocate coincide with the pandemic? And relocation involves acts which are the exact opposite of what you should be doing during pandemic such as not touching surfaces, living inside home, and maintaining distance from people. If you have planned to move during the pandemic your closed ones have definitely asked you to cancel the move. But, it is not that simple.
And if you necessarily have to move in this pandemic, it is fine to do so. How can one ensure the safety of their family and home as well as whoever they come in contact with during the process? How to ensure a safe relocation during the pandemic? To help you relocate safely during COVID-19 pandemic, I have offered some advice in the subsequent sections.
Without any further ado, let's jump right in
Relocate safely during COVID-19 pandemic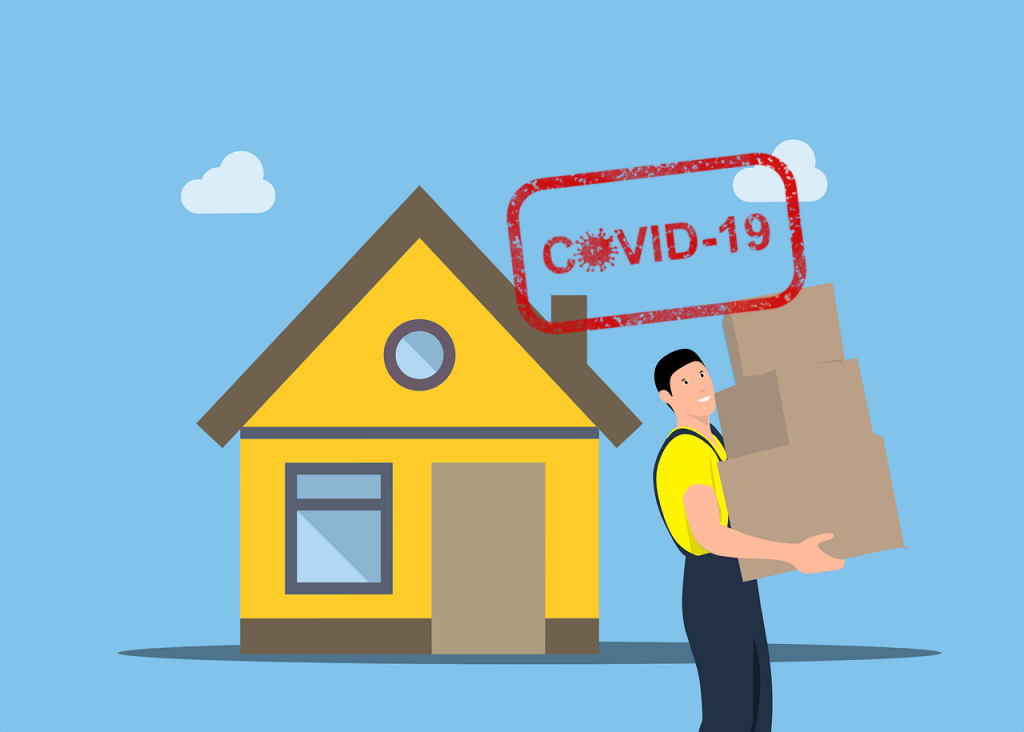 Here are some tips you can follow to relocate safely during the COVID-19 pandemic
✅ DIY move is the safest bet
It is a no-brainer that hiring professional packers and movers will alleviate the time and strain of relocation. However, you must try to execute your move without any outside help. So, the safest bet is to do a DIY move. DIY move will restrict your interaction with outsiders. And this will protect you from getting exposed to the virus.
Read also: Smart tips to follow when moving to any new city
✅ Spread the move
If you have the option you must spread the move out. This means preparing and completing relocation over a course of time and not all at once. Spreading out the relocation over a few days will attenuate the need for other people to come and help you in the move. This will diminish the chances of you getting exposed to the virus.
✅ Hire professionals if needed
So, not every person has the time, resources and experience to execute a smooth move. Hence, in such condition, professional help is needed. When you look for the best packers and movers in Mumbai for your move, you have to ensure that they strictly adhere to safety and cleanliness. You have to personally ensure that the moving company has implemented reasonable safety standards before committing to their services. Professional movers and packers will always follow safety standards so that they can execute the safest relocation without either of the parties getting exposed to the virus.
✅ Stay in touch with movers
You need to constantly be in touch with the professional movers until the relocation is finished safely. It does not mean you will be breathing down their necks. It's just to stay updated with the health status of everyone involved. This is important because things can change quickly during this pandemic and we have seen that in the past very well.
✅ Use new and sanitized boxes
If you are doing the relocation DIY way, you must have bought moving boxes to pack your goods. It is better to purchase new packing boxes. And you must sanitize them before and after packing as well as unpacking. This is not the time to use old or recycled boxes.
✅ Sanitize rented truck
If you are packing your goods all by yourself you still have to rent a moving vehicle or truck. Here, it is important to sanitize the truck before loading your goods. Do not forget to wear disposable gloves while dealing with truck.
✅ Keep your personals to yourself
Well, no doubt it is hard to keep track of everything you come into contact with. But some things are used by you only, for instance your gadgets. So, you should strictly keep them to yourself. This becomes crucial when you have hired moving company for your relocation. You should not share your personal stuff with them. Keep in mind that you should clear this thing with them so that they don't get offended if you don't use their stuff. Avoid contacts with checks, cash or cards by making online payment for the move.
✅ Ensure COVID protocols are being followed   
Following COVID appropriate behavior while moving is really important especially if you are moving with the aid of professional movers. What is the COVID protocol? You have to ensure that
Every person wears a face mask
Hand sanitizer or soap with a faucet is available for everyone to clean their hands frequently
Leave the windows and doors open for proper ventilation
Deep clean your old as well as new home
Do not touch your face  
Sanitize all the packing and moving boxes before loading and after unloading. Do not unpack the boxes without disinfecting them
Keep cleaning and sanitizing commonly touched surfaces like doorknobs, handrails, telephones, workstations etc.
Care about the safety of the movers as much as you care about the safety of your family
✅ Talk to your kids
If you are moving with your kids, it can get problematic for them and for you as well. So, you have to talk to them and explain the entire moving situation to them. Having a proper system in place and by doing routines before, during and after the relocation will let both the parents and kids to better cope with the situation.
✅ Get vaccinated and get tested
Besides following COVID appropriate behavior, vaccination is the biggest tool to fight against this virus. So, if you still haven't got the COVID vaccine jab, rush to the nearest vaccination center and get the vaccine shot. Besides getting vaccinated, you can also get yourself and your family tested for the coronavirus disease which will help you decide whether or not to go ahead with the move. If the results come negative you can go ahead with the move and if someone gets COVID positive report then you can plan the move accordingly. You can also ask the moving company whether their staff is fully vaccinated or not.
✅ Have a backup plan
It is a good thing to be hopeful for your move. However, you must consider the worst case scenario as well. God forbid if someone gets COVID positive in your family or show COVID symptoms you need to have a backup plan as relocation is no joke. If such a situation arises, you can re-schedule your move to ensure everyone's health and safety. You can consider other options as well depending on the condition of the person who got sick. Health and safety of your family is the first priority.
Ending note
Nobody can put their life on pause or on hold during the pandemic. There are many things that need to be done. Moving is one such thing as well. However, you can relocate safely during COVID-19 pandemic only when you follow the above mentioned safety tips. By doing that you will be able to protect yourself and your family against the coronavirus during your next relocation.
If you have any query, we're here to help just get in touch with you.