Your office will take on a new look with a new location. If not properly planned and communicated, office relocation can be a tedious operation. Relocating a workplace frequently causes a great deal of anxiety among employees. This is why offices stay in congested areas since they don't want to go through the hassle of relocating. It's not a good idea to have your workplace in a cramped location because it will damage the quality of your work environment. If you believe your office should be relocated, it is critical to plan ahead of time and complete the process as quickly as feasible. By devising a suitable plan, all of the inconveniences associated with workplace relocation can be avoided. Following are eight simple actions to take to ensure that your office relocation goes smoothly.
Let's hop on
8 Stress-free tips for office relocation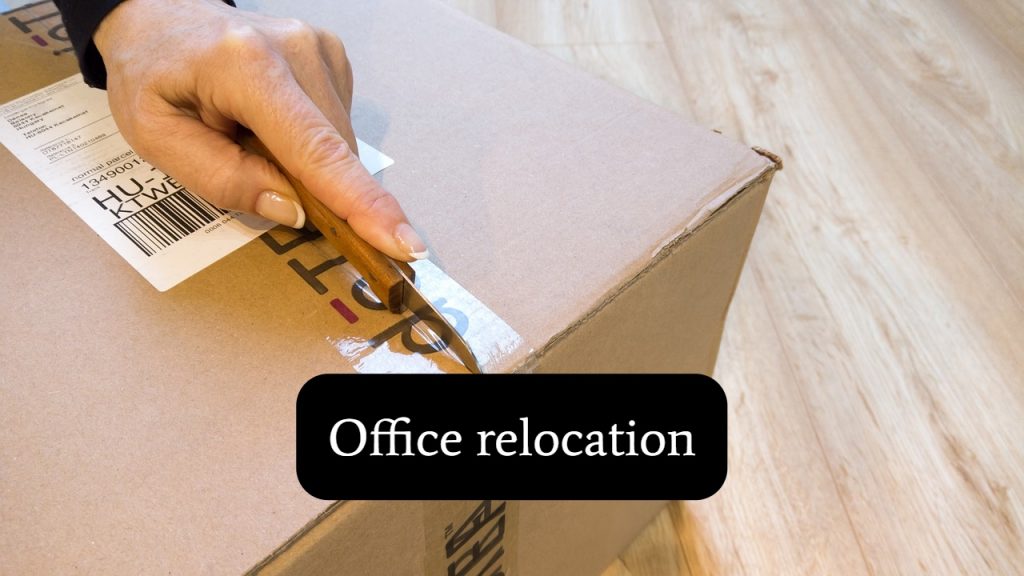 Here is a rundown for the best stress-free tips for office relocation
1. Choose a site and sketch out the plan's outline
First and foremost, you must choose an excellent location for your office. Connecting with real estate brokers is advantageous for this aim. Once you've decided on a place, you'll need to decide on a time and day for the relocation. For a successful shifting, it is advisable to you to write down all of the important tasks.
2. Inform your staff about the relocation plan
Once the blueprint is complete, it's critical to discuss it with your employees to avoid misunderstandings. Workers should know the new location's address, as well as any key rules that they need to follow there, and other pertinent information.
3. Important data should be backed up
There's a danger you'll lose data while shifting your office. Important papers, files, and folders are included in the data. Furthermore, physical devices such as servers, computers, and other electronic devices must be considered. As a result, it's critical to back up your data to avoid losing it. This will assist your organisation in seamlessly resuming operations in the new site. Smart tips to follow when moving to any new city
4. Discard old items
After safeguarding critical information, it's also critical to get rid of objects that are of no use at the new office. Old files and folders, as well as malfunctioning hardware, are examples of these goods. Take what you need and properly dispose of the rest.
5. Hire a moving company to assist you
Packers and Movers in Hyderabad are rather common around the world. Some businesses assist with the relocation process so that the company does not suffer any losses or property damage. Companies very commonly hire professional packers and movers for their move. They'll assist you in completing all of the tasks on your plan and relocating effortlessly.
6. Involve your staff
In the run-up to the transfer, don't leave your employees waiting—involve them! This will maintain strong morale by making them feel valued throughout the process. You can enlist the help of your employees in a variety of ways. Obtaining feedback on what they believe works and what they believe does not in the current office. This could be due to the layout of the desks or the position of the social space.
Inquiring about their thoughts on the arrangement and design of the new office. When it comes to upgrading the workplace, employees are the finest advisors, and this will offer them an active role in the relocation process once again.
Hold regular meetings to update them on the situation, as this guarantees that they have the information and you can avoid any hearsay. However, this communication should be two-way, and you should encourage staff to ask questions.
Once the new office is acquired, organise a company tour. It will pique everyone's interest!
7. Consider a phased approach.
Many busy companies prefer to organise a significant transfer over several days. Because only a portion of the workers and offices are affected at any given moment, this phased rollout can help to prevent chaos.
You may transfer a department or a portion of offices at a time, giving them time to deconstruct and reassemble before moving on to the next. This, of course, necessitates extensive planning and coordination in order to minimise the impact on other departments.
8. Separate certain items from the others.
Some equipment requires — or merits — particular handling. It's possible that something will happen before the big day. Do you, for example, have a particularly difficult piece of heavy equipment that requires disassembly, is large or heavy, or is very fragile? It's possible that you'll have to undertake this project on your own before the movers take care of the rest.
What about items that can be put off until later? For example, rarely used office technology or stored files can probably wait. This allows you to focus on getting the most crucial stuff up and operating first. Return to dealing with the less-used tools once things have calmed down.
Read also: Why your bangalore home relocation needs citiesmovers?
Final thoughts
Although moving an office might be a difficult undertaking, if the steps outlined above are performed correctly, problems can be avoided. After a successful shifting process, tell everyone about it. This means that you should adjust your social media handles, business cards, websites, and other materials to reflect the new location. to keep your consumers and clients updated about your company's move. After that, you may focus on setting up the workplace and ensuring that your staff have a pleasant working atmosphere.
Get in touch with us if you have any query!