Are you having trouble packing your belongings to move to your new home? If that's the case, we recommend that you follow the advice provided below. You'll be able to pack your belongings with these ideas in mind, as you don't want to break anything fragile or important. Let's have a look at ten helpful methods to pack your belongings in the right way
Let's dig right in
10 Methods to Pack Belongings the right way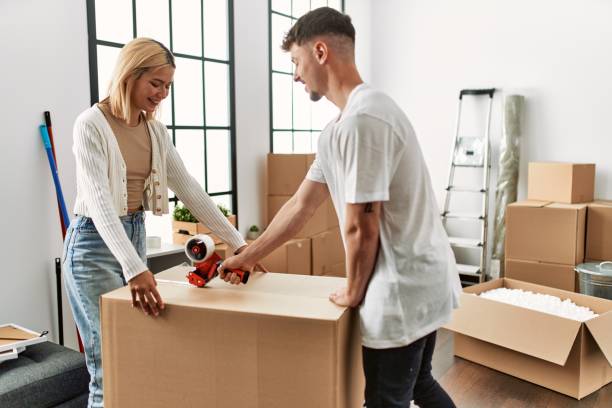 Here I have compiled ten methods to pack belongings the right way
1. Make Use of the Correct Boxes
When it comes to books, we recommend that you use compact boxes to pack them. Large boxes, on the other hand, are ideal for transporting lightweight items like cushions and linens. You don't want to break large objects by packing them in small boxes, after all.
Related article: 5 Expert Tips to Safely Pack your Clothes
2. Use Proper Techniques When Placing Lightweight and Heavy Items
Another important technique is to put heavier items in the bottom of the boxes you want to use. After that, you can layer lighter goods on top of the heavier ones. If you're going to load the truck yourself, you'll need to take this step. To maintain balance, larger things should be placed in front of the vehicle.
3. Use the proper sort of clothing to fill the empty spaces.
Packing paper, towels, and clothing are all good options for filling in the spaces. If you pack this box incorrectly, your mover may have difficulty moving these items. Apart from that, improper packing exposes your belongings to greater danger of harm.
4. Do not mix objects from several rooms.
We recommend using different boxes to organise goods in different spaces. This will make packing your boxes and separating the stuff into different rooms much easier.
5. Put a label on each box
This is a crucial advice since it will save you a lot of time and irritation once you've unpacked everything. All you have to do now is label each packet or box. To put it another way, you must number each box and keep track of your inventory. This will assist you in keeping track of everything.
6. Secure your Moving Boxes with Tape
We recommend that you use high-quality tape to seal the top and bottom of all of the boxes. You can also use the tape to wrap the boxes. This tape can be purchased for a few bucks at a nearby store. As a result, you don't have to be concerned about availability.
7. Arrange your Photographs
We recommend that you use the best packing practises for artwork. It's a huge error to wrap oil paintings in normal paper. Similarly, if you wish to take photographs, you should appropriately wrap them with tape. It's a good idea to frame these photos for added protection.
Read also: All in one Packing Moving Solution for you is Citiesmovers
8. Remove everything from your home.
It can be difficult to fit all of your belongings into boxes, bags, and other containers. Reduce your clutter as much as possible to make things simpler on yourself. Do a ruthless cleansing of unneeded or unnecessary stuff before packing a single box. You'll have less things to pack, move, and unpack, and you'll be able to start fresh in your new home.
9. As much as possible, plan ahead of time.
You should be aware of a move weeks or even months in advance (even if the final location is unknown). Begin by packing products that aren't in season or that you won't miss. If you're relocating in the summer, you can pack your winter jackets ahead of time, as well as books and other occasional goods. When the time comes to relocate, many goods will already be packed and ready to go, reducing your stress.
10. Hire professional movers ASAP
Book early if you're hiring moving companies in bangalore, renting supplies, or engaging specialists to work on the house, such as painters or cleaners. If you wait too long, you may end up spending more or not being able to acquire a truck or movers at all, especially if it's peak moving season.
Final thoughts
So, these were some methods you can use to pack your belongings the right way. By using these methods you can safely pack your household goods. So, follow these methods!  
For any query or questions, please get in touch with us!