It's hardly few hours left in marking the beginning of New Year 2022.
New Year is just about to make splash in the entire world and people are eagerly waiting to welcome NEW YEAR 2022 by embracing it. New Year brings new hopes, new desires, and new feelings. And home shifting is one such phenomenon in the life of people that also marks the beginning of the new life. Isn't it? De facto – relocation is quite headache giving process that can break the bone of and give a lot of stress to people. Getting anxious about your relocation? Fret not. If you're here reading this article, you're going to get rid of all the worries pertaining to home shifting.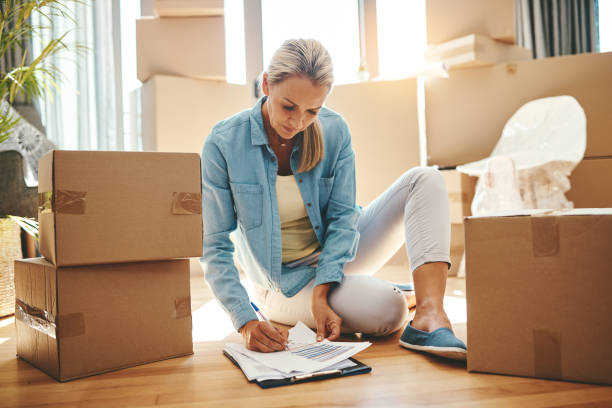 In this article, you're going to read the most effective and useful tips to make your home shifting cakewalk during New Year 2021. So, keep your eyes balls here and read the article till the end.
Let's jump in below.
A compilation of smart tips to make home shifting easy during New Year 2022
Following are the given tips that will help you make your home shifting most peaceful and stress-free task. So, let's look at the tips given below.
✔️ Book professional movers
Hiring professional movers and packers Gurgaon is the subjective approach. Yes, it's completely up to you whether you want to hire a moving company for availing home relocation services or not. But if you want to experience serene and tension free relocation, then you will surely need help of professional movers. So, make sure to book the moving company at least a week before your final day of moving. But the company has to be trustworthy, reliable, verified and certified one.
✔️ Categorize household items
Every home has variety of items stored at home such as clothes, books, utensils, fragile items, toys and so on. Also, add important documents in the list. You don't want to get stuck into hustling-bustling of household items right. Also, when it comes to packing household items, you will get into trouble in determining which item to pack first. That's why it's recommended to de-clutter household items and identify what all items you want to pack and leave behind. Forget not to categorize your household items.
✔️ Get packing materials
Packing materials are a shield to protect your household items from any kind of harm or damage. Agree? Think of it in this way – without moving boxes and packing materials, you can't move your household goods to another place. So, what materials you need for packing goods? The list includes:
Moving boxes
Moving straps
Ramps
Furniture dolly
Strong tape with tape dispenser
Marker for labelling items
Bubble wrap
Newspaper/packing paper
Old blanket
If you could think of any other packing materials you can add in the list and buy.
✔️ Start packing early
To save time of yours and packers and movers, you must start packing household items as early as possible. You will definitely have delicate and fragile items as well as important documents that you don't want to handover to movers. If you want to safely move delicate items and important documents to a new place, make sure to start packing those items early. It will help you save time and last minute packing hassle as well.
✔️ Shift before New Year
What does it mean? Shifting before New Year means shifting at least 1 week before remarking of New Year so that you no need to face rush or crowd. Now that time has already gone and tomorrow you will welcome the New Year, make sure to do everything in the proper. But you're already taking help of a moving company Noida then there should not be anything you need to worry about right. Just feel free and relocate without any tension.
✔️ Get rid of unwanted items
Since you're relocating to another new home, you will have many unwanted and irrelevant items that you don't want to move to your new home. Such items are what that you want to get rid of them right. So what to do with such items or how to get rid of them? Well, you have variety of options such as donation, selling those items and throwing them away. These are the best options you can opt to go with.
✔️ Don't stress out
No doubt, relocation is most hectic and tiring process that can drain your energy. But you shouldn't get swayed by it otherwise it will kill your New Year happiness as well. That's why you must keep the relocation stress away and let the movers help you with this process. Leaving your old home and shifting in a new home is associated with emotional feelings. That's why you have to be emotionally strong enough to tackle the entire relocation process.
The bottom line
Now that you have read what all sort of tips you need to follow for home shifting during New Year 2022, make sure not to forget them to follow. Above mentioned tips will help you tackle the process peacefully. So make sure to do as written. For any query or information, just get in touch with us. We will help you with everything related to home shifting.