Moving is a nightmare for many people. And why not, it involves such hectic and chaotic tasks which an inexperienced person can't do in the right manner. And when it comes to moving your inexpensive books, the nightmare can't get worse than that. Bibliophiles like me will freak out if any of the books gets a small tear, dog-ear or damage. Books are precious to many people. So, how can one safely pack books while moving? This article will help you find just that.
Without any further ado, let's jump straight into the article
Tips to safely pack your books while moving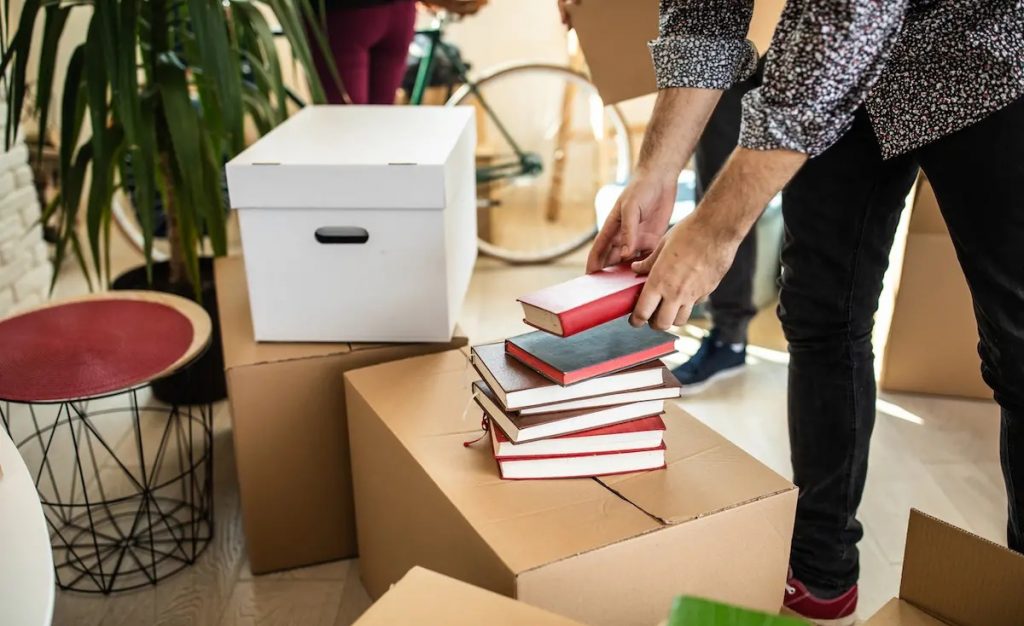 Home relocation is a tedious and stressful task per se and when books are involved it can get even more stressful. So, to reduce your stress I have come up with some expert tips which you can use to safely pack your books while moving
Let's have a look at them
✍️ Quality of boxes
When you are planning to move your precious books with you, the quality of the packing boxes is not an option. You need to get high-quality strong packing boxes which can hold your books safely. This becomes more important when you have those heavy, thick books. If you use cheap quality packing boxes, your books are vulnerable to damages.
✍️ Pack heavy books first
You must put the heavy books at the bottom of the box while packing. This is because if you put light weight books beneath heavy books, the chances of damages are high. Thus, always place the heavier books below the lighter ones.
Read also: How Citiesmovers is better at providing moving services?
✍️ Pack orderly
Packing books haphazardly is not the right practice. You should pack your books in a specific order. For instance, you can segment and pack your books according to their size, genre and type. Each and every segment must be packed in separate boxes for instance, you can pack non-fictions in one box and fictions in a different box. This will make things easier for you during unpacking of the boxes containing books.
✍️ Limit to packing
When packing books in a box, there should be a limit. You should not put excessive books in a packing box just to cut some cost. This is a recipe for disaster. Each and every box has a capacity, so fill as much as the box can hold safely.
✍️ Utilize tissue papers
If you got those beautiful slip covers for your hardback books, your books are likely to get damages. Therefore, you can use tissue paper to protect the books from getting any kind of wear and tear. You can simply line the boxes with tissues or packing paper before placing the books inside it. Moving Companies in Edmonton generally follow this technique to protect books from any kind of damage.
✍️ Be careful while handling
You must start the packing process sooner so that you have ample amount of time to finish the task in a safe manner. Since you are packing books, you need to be very careful while handling. You must get quality packing essential supplies such as bubble wrap, strong packing and moving boxes, waterproof sheets and so on. Don't put all the books inside a single box. While putting the books in the box, no book should be folded, bent or placed at an angle. Always place them horizontally in the packing box. In order to keep the books insect-free and worm-free, keep naphthalene in those boxes and seal the boxes with quality packing tape after placing the books.
✍️ Don't leave spaces
There can be spaces in between the books when you place them inside the box. But, you must always ensure that those spaces are not filled with other books. And you must not leave the spaces. So, what you need to do? You can fill the spaces with newspapers, soft clothes, soft towels and other such items. This will fill up the spaces between the books which will secure them in their respective places and there will be no room for books getting touched against each other.
Read also: Moving with partner? Guide you need to follow
✍️ Label the boxes
Labeling the packing boxes is really important. If you do not label the boxes, you won't know which box contains what. Hence, it is important to write name or number on the boxes so that you can recognize which box contains what. Labeling will be of much help to you during unpacking of the boxes. You would know which box has which books so you would be able to unpack the boxes accordingly.
✍️ Donate unnecessary books
As a bibliophile, I understand that it can be painful to give away your books but, isn't spreading the knowledge the whole point of reading books. So, if you have some books that you have read millionth of times and you know each and every line by heart, it is time to give it to someone else. You can donate your books to needy kids, at local charity or public library. You can also hand them over to your friends and can always take back when you want to read one of them.
Wrapping it up
Relocation is tiresome and moving books can be full of worries but if you follow the above mentioned tips thoroughly, you can make your book moving easy-breezy. By following the right practices you can move your books without any wear and tear.
For more such helpful content or if you have any query, just get in touch with us!