If you are planning to relocate your home, we know how complex and hassling it can be. And if you are doing a DIY move you must be packing and moving all the boxes on your own. While packing household goods in boxes may seem an easy-peasy task on the surface, let me tell you, that is not true. In fact, there are many mistakes you can make during packing and moving boxes. Packing is not just about putting things inside a box, there is more to that. If your household goods include delicate and fragile items, the chances of damages are quite high. So, how you can pack and move those valuable goods safely? What are some common packing and moving boxes mistakes that you need to avoid? This article will mention eight common packing and moving boxes mistakes that you must avoid
Without any further ado, let's get straight to the mistakes
8 Common Packing & Moving Boxes mistakes you must avoid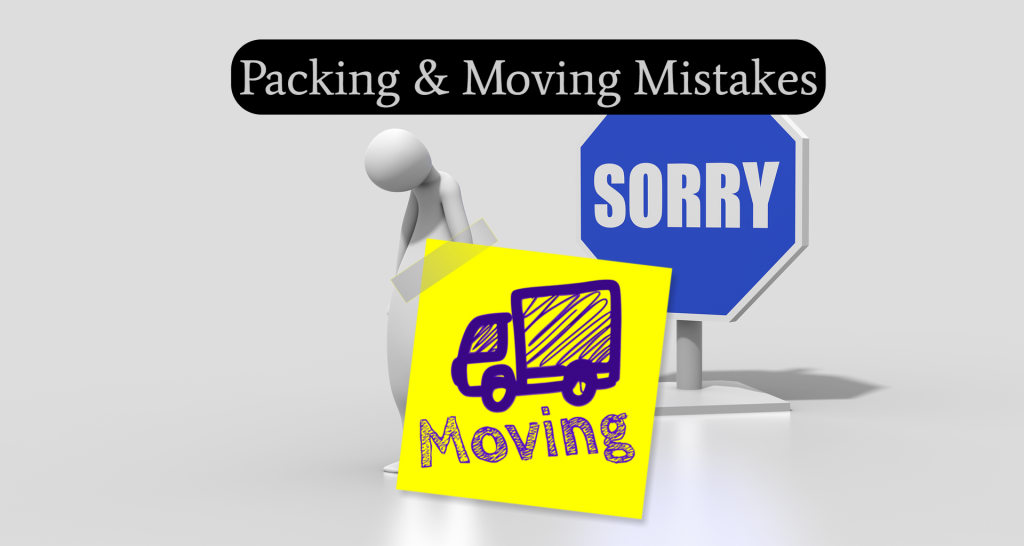 Packing boxes is a skill that inexperienced people don't have. Thus, it is always better to hire professional Removalists in Sydney. They have the necessary expertise and resources to execute a safe and smooth move. Still, if you decide to go ahead with a DIY move, here are eight common packing & moving boxes mistakes every moving person needs to avoid at all costs
1. Not getting apt-sized boxes
This could be the most common mistake that people make. They do not get right-sized boxes for their belongings. It's fine you want to recycle your old boxes in which you got fruits or liquor but it is important to understand that the size difference can damage the goods kept inside the boxes. Hence, you must always get designated moving boxes that comes in three sizes; small, medium and large. Then, you can pack the goods according to their sizes in the right-size of box for them.
2. Not wrapping goods before packing
Not only the packing boxes need to be wrapped, but the goods also require wrapping. This is because if you don't wrap the goods before putting them inside the boxes, the goods can get damaged. In order to wrap the goods, you can use packing paper, plastic wrap, and air-filled plastic padding as well as items that are already in your house such as towels, washcloths and linens which will provide a lot of cushion and padding wherever needed.
3. Not assessing your requirements
This is one of the first steps you need to follow when you decide to move. You must know what kind and size of goods you will be packing and according to those goods what kind of boxes you would need. By avoiding this step you can pack an item in a box that's not the right size for it. So, start by preparing an inventory of what and how much stuff you have. Then, according to that you can select the size and type of boxes and packing material.
Read also: What You Need To Look For In Furniture Removalists?
4. Packing useless stuff
If you are someone who just can't get rid of old and useless belongings then be ready to loosen your pocket a little more. Packing and moving unnecessary stuff with you will cost you more money and will consume more time. Thus, try to get rid of the useless stuff that you have in your home. First off, start room by room and take out the things are no longer useful to you. This can include old clothes, furniture, documents, and other items. You can choose to do one of three things with them- donate, recycle and throw away. Try to donate as many items as you can. Goods that are recyclable must be sent to the recycling center. This will save you money and extra work.
5. Not using bubble wrap in right way
Bubble wrap is the best packing material when delicate and fragile goods are involved. It protects delicate items from getting damaged during transit. Having said that, if you do not use the bubble wrap in the right way, goods can get damaged. When wrapping improperly, bubble wrap can leave marks on crockery and art pieces that can be really difficult to remove. Besides that, wooden items should never be wrapped with bubble wrap or any plastic wrap directly as the condensation developed between the wood and plastic wrap can damage the wooden item. In order to prevent such damage, cover the wooden and glass items in newsprint or other breathable materials before you wrap them in a layer of bubble wrap.
Read also: How To Pack Bathroom Essentials During Relocation?
6. Filling stuff more than capacity
Many people fill the packing boxes more than it can hold just to save some bucks and seconds. Any box can only hold a certain weight of goods depending on its size and layers of wall. So, it is important you keep that in mind before filling the boxes. Overfilling the boxes will only lead to breakage. Hence, it is important you fill a specific good in the right size of box only. A box should only be filled up to its capacity.
7. Not labeling the boxes
I think this is another big mistake that can create a chaotic situation for you during unloading and unpacking. Don't you think so as well? Labeling does not mean that you have to label every item placed inside the boxes. But, it is crucial to label the boxes. Labeling the boxes will make things less chaotic for you during unpacking. For instance, a box that has essential goods that you need to unpack the moment you arrive at your new place can be labeled as "Essentials" and vice-versa. You can label the boxes room-wise as well. You can pack separate rooms in separate boxes and label them by their room name.
8. Not using the right tape
There are different kinds of tape for different kinds of packing. Not using the right tape for sealing boxes is a recipe for disaster. A regular packing tape will not do the job especially when the box contains fragile goods. You must use high-quality packing tape to effectively seal the boxes. Always apply two-three layers of tape on the boxes. This will make the boxes stay intact and closed throughout the entire relocation process.
Final thoughts
Avoiding these common packing and moving boxes mistakes will save a lot of your time, money and hassle. If you are dealing with the move all by yourself, you must follow each and every tip mentioned in the above sections. Relocation is a hectic task and if you don't want to face the hassle of moving, follow the right packing and moving practices.
I hope this article was helpful for you. Just get in touch with us for more useful content!