Moving can be hideous as well as an exciting process. No doubt, stress and happy feeling both are associated with moving. No matter, whether you're moving to a city, within a city, or some other state or country, your moving is going to be a hectic one. Because you would not know what things will end up giving you stress. So, how to make the moving process stress-free? Do you have any idea? Let me tell you it's a moving checklist, which helps and makes your moving process much easier and mesmerizing. Do you want to know how to prepare a moving checklist? If no, this is the ultimate guide for you. Keep reading to know how the moving checklist helps you with moving.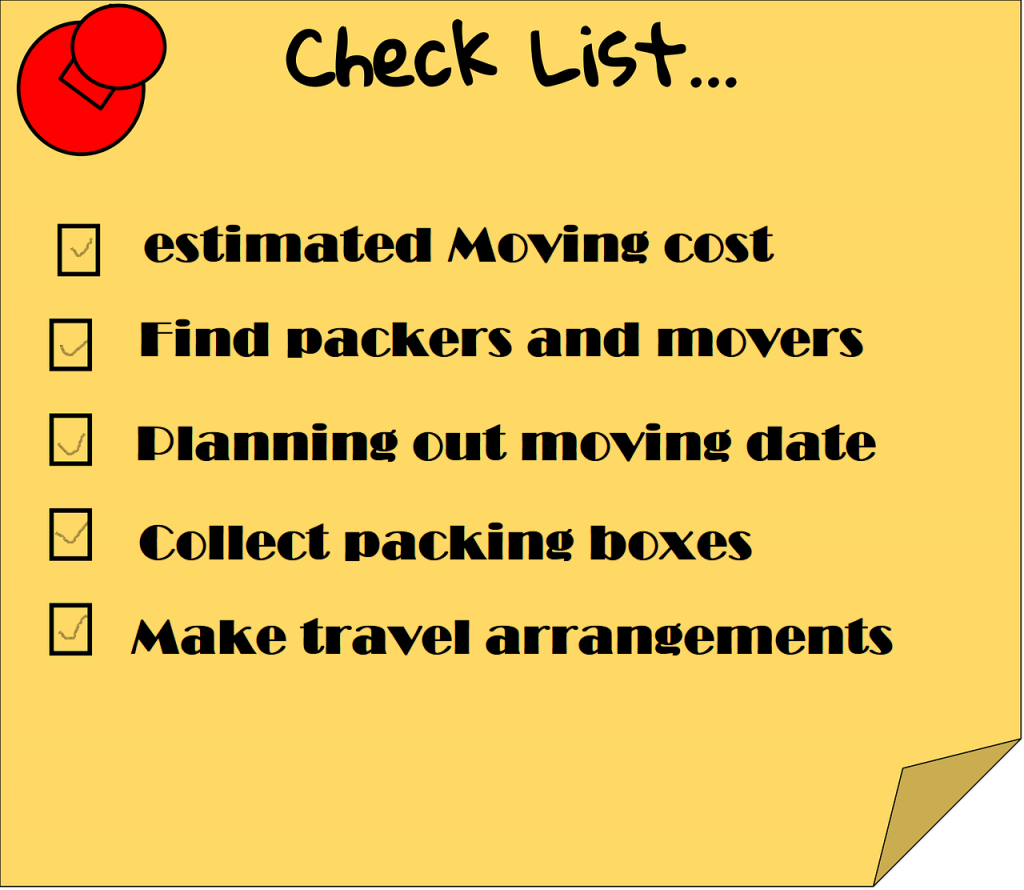 So, let's get a crack-in.
What is a moving checklist?
Let me make it very simple to you, a moving checklist is a list of things which you need during the home relocation. Not only do you just write about things, but also about the day & timing of moving, cost of moving, everything. Additionally, you can also add the items you want to move and unnecessary items that you want to throw or sell out. Did you find it useful? Or still you're puzzling about the moving checklist? If yes, keep reading below.
Follow our moving checklist to get rid of stress
📌 Set the estimate budget of your moving
Estimating the budget is one of the very first things you should include in your moving checklist. Unless and until you know the moving budget, you won't be able to plan anything before that. What you actually need to do here is planning out how much you can actually afford to spend on an entire relocation move. In case, if you have a large budget, you can hire more service providers such as packing dishes, furniture assembly, etc. But for a tighter budget, you better avoid such services which will cost you an arm and a leg.
📌 Research about moving company
The next thing your checklist must contain is the packers and movers in Gurgaon. If you really want to avail packers and movers services, then you should start researching about the same as soon as possible. Let me tell you what type of moving company you should hire:
The company should be trustworthy, verified, and certified
Having many years of relevant experience in this field
Check out their customer reviews and star rating
Kind of packing material they use
Whether they provide transit insurance
Offer services at affordable prices
All these qualities you will easily find in citiesmovers packers and movers. So, without a spec of doubt, you can hire our service providers at affordable cost.
📌 Plan out packing and moving date
Planning out time and moving date is another important thing which should be there in your moving checklist. So, what you need to do here is take a look at the time and day when you will be executing your actual or final move. I would say, start doing packing before even you think of packing. It will only help you save time, identify which stuff you need the most, what items you no longer need, and what items you should throw or sell out. Advance packing actually helps you in resting and you save or reserve days for rest rather than involving in the busy activity of moving.
📌 Garner packing boxes
After deciding packing and moving date, you must start collecting packing and moving boxes. You will easily find packing boxes near the grocery store at cheap price. But if you're hiring packers and movers services, you no need to worry about collecting packing boxes. But let me tell you the kind of boxes you require in packing household items:
Small boxes to pack small and light items
Medium boxes for kitchen appliances, toys, lamps, pans, books etc.
Large boxes for keeping pillows, bed sheet, clothing, blankets, etc.
Now don't get worried if you fall short of boxes and you have other items to pack. Don't forget there are many things which you can safely move without packing (though you can also use plastic containers trash boxes, shoe boxes, and many other boxes of electronic gadgets.
Additionally, packers and movers do provide packing boxes so you no need to worry about collecting boxes if you're hiring professionals for your relocation needs.
📌 Use of bubble wrap, packing paper & alternatives
Packing boxes aren't enough for you to pack fragile and delicate items, right. To ensure the safety of precious and delicate items, you have to use special packing materials such as bubble wrapping, packing paper, towels, blankets, newspaper, foam, and many more material you find is important to pack fragile items. Let me tell you that bubble wraps are crucial for safety and security of fragile items. It is actually a win-win situation for you.
📌 Start making travel arrangements
Can you forget about taking care of your health? No, you just can't. Let me tell you that relocation is a very hectic and tiring process; you may end up getting stress. So, to make moving a comfortable and mesmerizing one, you have to consider how you and your family are going to move. If you're going long-distance, you have to prepare for the move you're going to take. For example, stopping points for having meals, gas, rest breaks, etc. In case, you're going from the flight, then hire transportation services for your vehicle, if needed.
Let's conclude
With the moving checklist, you're finally able to make a move to a new place. No matter whether you're shifting to some nearby place or long-distance moving, relocation isn't an easy process. If you want to make your move a simple and cakewalk process, make sure to use this moving checklist. Without it, your relocation will be a cumbersome task. And if you're looking for packers and movers services, Citiesmovers offers you a list of top 10 packers and movers in your city or country, you can check out.
For ay query or information, feel free to contact us. We're here to provide you valuable solutions.