A successful home shifting is one in which no damage is done to the wordily and household possessions you move during relocation. Do you agree? Obviously, because no one wants to damage the precious items they have while relocating. That's when one tries to be as effective and careful while packing item as possible. There are many items for which your heart goes out and electronic items are one of them. No one can afford to damage their electronic gadgets and appliances, neither me. In fact, packing such precious items isn't everyone's task. One has to take professional movers' help.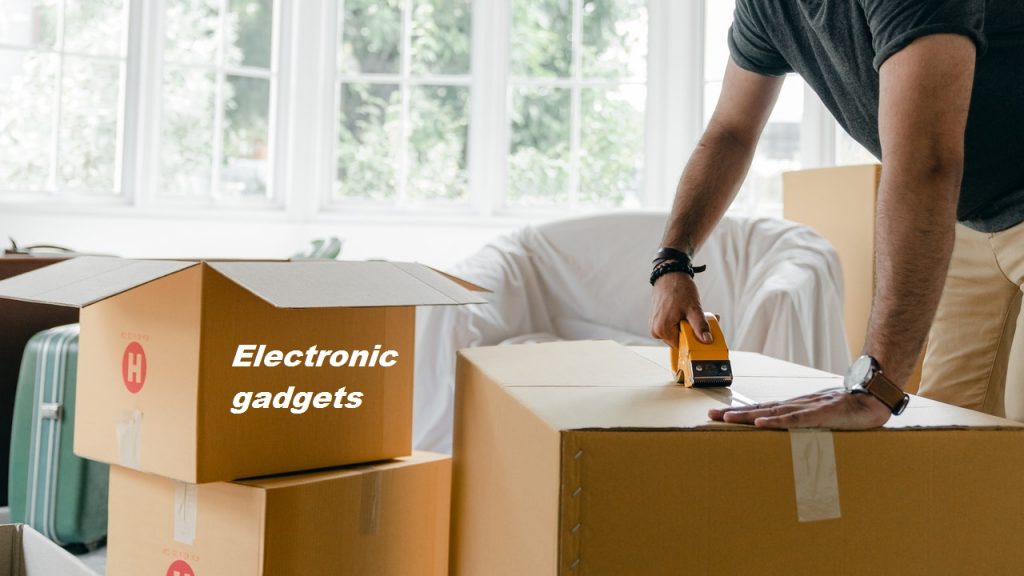 But if you want cost-effective tips, then here I'm going to share all tips, tricks, and hints with you to make packing and moving electronic items safely during home shifting.
So, without much delay, let's start this article.
Cost-effective tips to safely pack and move electronic gadgets
Make your electronic items packing and moving safe and secure with below given tactics:
☑ Garner electronic packing materials
The very first step in packing and moving is collecting all the materials which will help you in packing these electronic items. To make your belongings safely reach to your new home, you definitely want abundance of protective packing materials. In case, you're puzzling, below I'm going to mention some of the packing materials for packing electronic items, which include:
Moving boxes of different size and shape
Packing paper (newspaper will also work)
Protective plastic bags (large trash bag will also work)
Markers for labelling boxes
Strong packing tape to restrict any kind of leakage
Bubble wrapping/packing peanuts
These are the items which commercial movers in hyderabad also use to provide best services to their clients.
☑ Get the user's guide (for packing tips)
I'm here to only talk about the cost-effective moving tips which you can follow to save cost, right. But how to safely pack electronic gadgets is the main question here. That's where manufacturer's guide helps you with that. In the guide, you will get to see guidelines/steps to prepare items for packing and moving. In fact, you can also research online and learn from them.
☑ Unplug electronic gadgets
When do you unplug electronic items? Guys, 24 hours is the right time to unplug electronic gadgets. Because you have to let your items cool down enough to be transported without having to cause internal damage. So, all you need to do is just unplug every electrical device at least 24 hours before packing, moving, and storing. Finally, this also saves you from getting any electrical shock and unnecessary damage.
☑ Take out batteries
If you want to avoid any kind of internal damage from happening then make sure to remove batteries from devices like remote, toys, small accessories, and electric kitchen gadgets. This is how you remove any kind of damage from any kind of electronic device.
☑ Keep your devices covered
To prevent your items from dust and any other dents, then you have to cover your electric devices with plastic and wrapping sheets. Moreover, you can also use thick blankets to prevent any dents or surface scratching on large electronics. Let me also tell you that packers and movers in hyderabad also utilize old blankets to pack and wrap your electronic devices so that they can prevent items from getting dust and scratches.
☑ Keep electronic items in climate controlled place
Next effective tip to prevent your electronic items while moving is keeping them in climate controlled place. You have to take care of it especially when you're going for a long-distance move and want long-term storage to store your items. That's why keeping electronic items in climate-controlled environment is necessary to prevent any kind of internal damage.
Final wordings
These were some of the most essential cost-effective tips you can follow and implement to pack and move electronic gadgets during relocation. I hope you have read all the mentioned tips thoroughly and found this article informative. In case, you're planning to take professional's help then Citiesmovers should be your go-to. All you need to do is just get in touch with us and avail our packing and moving services today.
Don't worry now. Just sit back, relax, and binge-watch your favorite movie, show, or may be series.