From sorting items to packing, moving, and shifting them—home shifting is a huge task. Hence, apparently, there is so much cost involved in it. But thankfully, there are ways that you can save money on home shifting. Wondering how to that? This article has just the answer you are seeking. So, read on and find out.
From dream job to education, better lifestyle, and so on, people shift their homes for various reasons. It is an event of great importance. Moreover, shifting the home is also an expensive event too. From packing items to organizing, moving, unpacking, and re-arranging them—there are numerous things involved in home shifting.
Though the process of home shifting is inevitably expensive, there are ways to save money at different steps. In this article, you will learn about how you can save big bucks on shifting your home. Hence, by the end of this article, you will know ways to minimize the cost of shifting.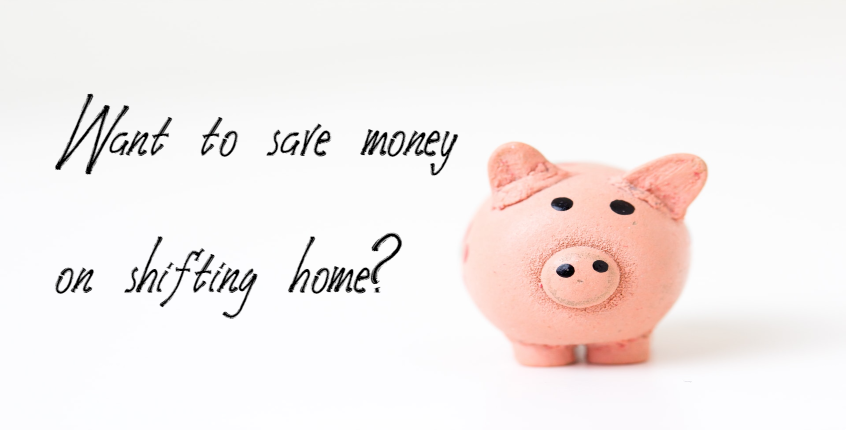 Ways to Save Money on Home Shifting
✔️ De-clutter
De-cluttering means identifying and remove unnecessary items. It is a good practice to do this every once in a while.
When you have decided to shift your home, this is the first thing you should do. De-cluttering will help you get rid of the items that are no longer useful. Once you have gathered all the useless items, do the following:
It is best to throw away all the items that are broken. Or you can sell them off to a scrap dealer.
If you have old clothes and toys that can still be used, you could donate them.
You may also find some items that are in proper working condition but no more useful to you. In that case, you can sell them off.
Also, make sure that you do not carry anything that won't be useful in your new home. So example, if you are moving to a colder place, you should get rid of your air conditioner.
Following these tips will not only help you minimize the number of items to be transported but you may also get some money by selling items that are no more useful to you. It is best to get rid of such items in advance so you can get the best value out of their disposal.
✔️ Shifting Strategy
If you want to save money at different steps of home shifting, it is important to first organize them properly. Hence, it is important to have a shifting strategy in place.
The moment it is finalized that you have to move, sit down with a pen and paper, and start chalking out a plan. Start with identifying all the things you'd be required to do. This will also help you understand what and how much help would you need to outsource.
In such crucial matters, planning in the end moment adds to cost. Many a time, in the absence of a proper strategy, unexpected expenses come up which could've been avoided otherwise.
Moreover, since you will have more time on your hand, you will be able to look for more packers and movers and negotiate better. Generally, people end up paying more due to hurry. By planning in advance, you will be able to avoid that and save big bucks.
✔️ Disconnect Utilities
This is one thing that people shifting their home generally forget. If you don't make sure to disconnect utilities before leaving your old home, you'd have to pay for services you never used.
Thus, make sure to get all the utilities disconnected in your old house before the day of shifting. This includes the supply of electricity, water, and gas. Moreover, make sure to disconnect other utilities like TV connection, newspaper, milk vendor, etc. If you are not moving too far, you can ask them to transfer all these utilities to your new place.
✔️ Have a Budget
Another important thing is to have a home relocation budget. It is crucial if you want to have a cost-effective home shifting experience. Budgets help us save money by restricting our expenditure and direct it only towards important things.
Therefore, having a home-shifting budget is crucial. So, when you are strategizing for shifting your home, make sure to also create a budget.
This will allow you to avoid unnecessary expenditure and you will be spending only on the useful stuff. With this, you might even be able to find more cost-effective ways of packing and moving your stuff. Although, most of the time it is difficult to stick to the budget completely. Hence, you should leave some room for contingencies and miscellaneous expenses.
✔️ The Best Time to Move
The time on which you shift also plays a role in determining the cost. Hence, if you want to save money on home shifting, you should try to schedule the whole thing on cheaper days.
Yes, there are days which can be cheaper than others when you are shifting your home.
For example, it is the best shift on weekdays since weekends are more expensive for packing and moving. Moreover, packers and movers services generally quote higher prices in the month's ends. Hence, it is advisable to keep from scheduling home shifting in month ends. This way, you will not only save money but will also get a great service since such periods are generally followed by lower demands. Hence, your requirements and service will get more attention.
Wrapping Up
Shifting to a new city is an expensive event. However, with proper planning and thoughtfulness, you can actually save a lot. And the tips given above will help you with just that. You will realize that most of it come down to having a proper strategy and starting on time way adequately before the day of shifting. This way let's say, if you are shifting in Delhi, you will also be able to find the best packers and movers in Delhi.