Planning for relocation is a huge nightmare for majority of the people. And why not, relocation is a never-ending and tiresome process which can overwhelm anyone. It is such a back-breaking process which also involves a lot of risks and fears. Risk of damages or fear of goods getting misplaced or lost is very common. It is important to hire someone who has the expertise in order to avoid all the aforementioned scenarios. A successful and safe relocation needs careful planning and calculative move. Due to this special requirement many relocation companies have come up in the market. However, not all of them are genuine. Many fake and fraud companies have also entered the market. They are wooing people with very low-cost services and special offers, but once they get the money, they will just run away. So, you must learn how to make out the difference between genuine and fake packers and movers.
To help you, in this article, I will give some tips which you can use to prevent yourself from hiring fake and fraud packers and movers
Let's check those tips
Tips to Avoid Hiring Fake Packers and Movers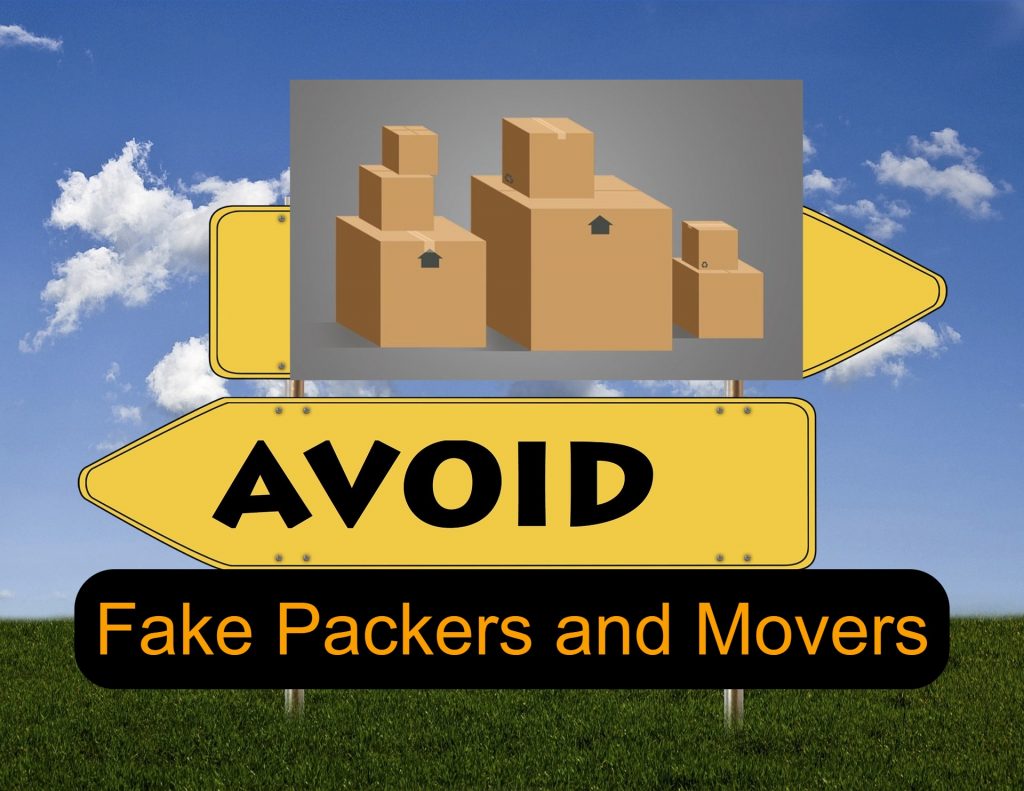 So, here are some tips to use in order to avoid hiring fake packers and movers for your relocation
✅ Previous track record of the company
Before hiring any moving company, do not forget to check their previous track record. You must go through the testimonials and reviews featured on their website to check the authenticity and genuineness of the company. Movers with a great past record will always have a better reputation than the others. So, this is the first thing which will help you in identifying whether a packer and movers is fake or not.
✅ Whether the moving company has the license
Every authentic and genuine delhi packers and movers will always have a valid license to perform its operations. So, check whether the packers and movers has valid license or not before finalizing the company. You should only hire a moving company after confirming the company has a proper and valid license. Another thing you can check is the license number which you can also check in the database to make sure that the mover is not a fake company. Only after ensuring these two things, you must sign the contract with that particular moving company.
✅ Only written deals are concrete
You must be aware that written deals and proofs are always good with a better record of receipt. Vocal promises should never be trusted. Regardless of how renowned or reputed the moving company is, you should only deal with them if they are providing you with written documents. The value of the words on a paper is way greater than just mere verbal dealings. If any company refuses to give written documents to you, it straight away means that the moving company is fake and fraud. Hence, this is a great method to differentiate fake companies from genuine ones.
✅ Do not give full payment in one go
This is one of the worst mistakes you could ever make while selecting packers and movers. You can land in trouble if you make full payment in one go as in the beginning there is no certainty that whether the company will work for you or simply run away without helping you to relocate. It is advisable to pay the amount in installments. You can pay a fraction of the amount initially and pay the full amount once the relocation is finished. This will make sure that you will prevent yourself from paying your hard-earned money to Fraud Company.
✅ Whether company conducts pre-move survey
Genuine movers will always conduct a pre-move survey. Therefore, you must confirm that company conducts a pre-move survey before hiring them. You should ensure that the company pays at least one or two visit prior to moving out as the entire process is a very challenging one. It is advisable to ensure all the things are sorted out well in advance. In this way, you will be more familiar with the moving company and the personal contact will help you avoid hiring a fake mover for your office or home relocation.
Wrapping it up
Moving is a costly endeavor hence, you must ensure that you hire only a genuine and authentic moving company which will make sure that your money will be worth spent. Thus, it is most important to ensure the authenticity of the company. By following the above mentioned tips, you can save yourself from wasting money on avoid fake packers and movers. If you follow these tips by heart, you will surely get an authentic and genuine moving company which will make your relocation easy-breezy.
For more awesome content, just get in touch with Citiesmovers. You can also share any query you have with us!